India is sending its largest ever Olympic contingent to the London games with the hope of taking home medals in sports such as tennis, wrestling and shooting. Though cricket is not currently on the Olympic agenda, Lord's will be in use for the Archery competition, where Tarundeep Rai will surely find memories of past Indian success.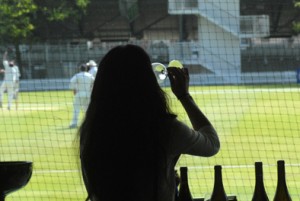 Success for India at Lord's has not been restricted to cricket. The judging for the International Wine Challenge (IWC) takes place in rooms at the Nursery End of the ground, with fine views of the practise area. Chateau Indage, Sula and York have all received IWC recognition in the past and in 2012, Fratelli and Vallee de Vin were commended for entries of both red and white wines.
Whatever their shortcomings, competitions such as the IWC and the Decanter World Wine Awards (DWWA) provide the best opportunity to date to see how Indian wines compete on the world stage. Results from both competitions so far seem to suggest a high degree of competence, but limited "wow" factor. Notwithstanding the fact that Indian wines were receiving official commendations in the 1880′s, there is no getting away from the fact that the Indian wine industry in its current form is a very young enterprise. It would be churlish to suggest other than that the achievements to date have been very considerable and there is surely every reason to think that still greater Indian wines will be released before too long.
We long to see an Indian wine achieve a gold medal at an international competition – but won't be too upset if an Archer achieves a gold medal first!