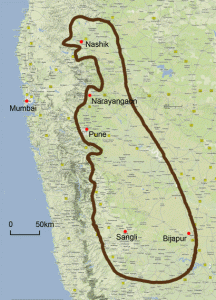 This is the powerhouse for the current production of Indian wines, and can be conveniently divided into three sub-regions.
The northern part is centred on the town of Nashik (or Nasik), and is where most of the new wineries have established themselves. This trend has been fostered by the creation of the Nashik Wine Park which offers small producers the ability to share facilities as well as receive a number of tax and duty reliefs. The major producer in the north is Sula Wines.
The central sub-region extends from Narayangaon through Pune to Baramati and is home to two important wine producers – Chateau Indage and Four Seasons Wines.
The southern sub-region spans parts of Maharashtra and Karnataka with wine production being centred around Sangli and Bijapur. The Krishna Valley Wine Park has been established near Sangli, along similar lines to the Nashik Wine Park, in an effort to assist and encourage smaller producers.