The Godavari Wine Park, located at Vinchur some 50 km from Nashik, is now home to a number of wineries including Vinsura Wines, Flamingo Wines, Good Drop Wine Cellars and the India Food Company. The latter was established by the Sarda family, who had made their fortune in paper and education. Construction of the winery (shown below) began in 2006 with the first vintage being in 2007. All equipment for the winery was newly imported from Italy and France. Production capacity in 2013 was 300,000 litres.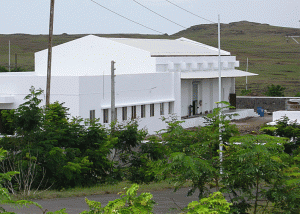 Grapes are sourced through long-term contracts with growers. This arrangement requires considerable time, trust, and a willingness to accept honest feedback in order for quality grapes to be consistently delivered to the press. About 40% of the wineries crush is of the white varietals Chenin Blanc and Sauvignon Blanc, while black varietals utilized are Cabernet Sauvignon, Shiraz and Zinfandel. Wines produced include a small amount of rosé (10%) and a late harvest Chenin Blanc.
Originally marketed under the brand name "Vin & Vouloir", the wines which are widely available throughout Maharashtra, are now sold with the brand name "V & V". They are also available in continental Europe under the "Surahi" brand.
Critical reaction to V & V wines has been mixed. Some tasters have complained of green notes and rustic characteristics, but their inaugural 2007 rosé achieved a Bronze Medal at the Indian Wine Challenge and the late harvest Chenin Blanc received a Bronze Medal at the Sommelier India Wine Competition in 2009. Additional work with contract growers is probably required if quality is to be raised and consistency assured.
 
| | |
| --- | --- |
| Winery Location | Tasting Notes |