There is still a majority view in the UK that the most suitable alcoholic drink to accompany Indian Food is beer.  Lord Bilimoria dabbled with selling wines to partner Indian food, but he was not much more successful with this than with his efforts at importing polo sticks.  Yet as the founder of Cobra Beer, he created a business whose products are seen and drunk in curry houses from Land's End to John O'Groats.
This may be about to change, albeit slowly.  As Brits increasingly consume more wine at the expense of beer, they are experimenting with food/wine combinations as never before.   The old adage that "wine doesn't match with spicy food" is on its way to the waste bin, aided by imaginative food and wine journalists and competitions such as What Food What Wine.
A number of the more expensive Indian restaurants in London carry extensive collections of wines, sourced from across the globe – see, for example, the Red Fort Wine List.  Walk into any Italian restaurant in London and there is bound to be an extensive range of Italian wines on offer.  In the same way, do Indian restaurants in London help to promote Indian wines? 
In an attempt to anwer this question, I've tried to analyse the wine lists of five of the more pre-eminent Indian restaurants in London. Their selection is somewhat arbitary, but probably representative of the sector.  The analysis looked at the origins of table wines available by the bottle (sparkling wines almost all hail from a particular part of France, that you may be able to guess!).
The situation for white wines is shown below.  In all cases the single largest source of wines is from France, with the rest of Europe in second place.  Wines from India occupy a tiny part of the listings, or none at all in the case of two of the restaurants.

The situation for red wines is little different.  Most of the listings are given over to France and the rest of Europe, with Indian wines receiving a coverage which is little more than tokenism.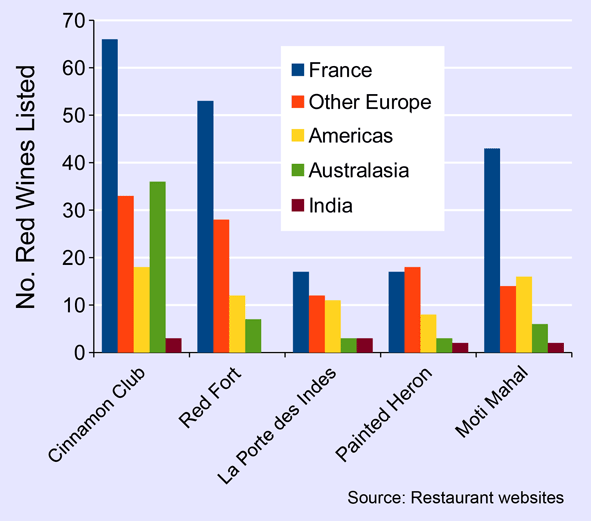 Considering the esteem with which top sommeliers are held these days, these listing seem tired, unimaginative and very conventional.  India produces a number of aromatic white wines which are slightly off-dry and have fresh acidity.  These can cut through thick sauces and really enhance food flavours.  Hot (chilli) dishes may reject coarse tannins, but can often cope well with fruity reds with a smooth tannic structure.
So to sommeliers at London's Indian restaurants I say: stop playing safe, encourage your clients to experiment, and list more Indian wines.  To start you off here are four  wines from four different producers that I've tried recently and that you could usefully list: Fratelli Chenin Blanc 2012; Vindiva Reserve Estate Sauvignon Blanc 2012; KRSMA Estates Cabernet Sauvignon 2012; Vallonne Vineyards Merlot Resrve 2011.