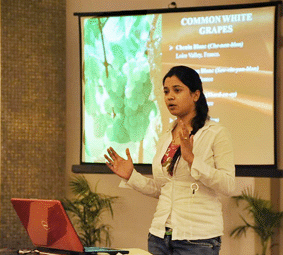 Notwithstanding the difficulties that it has faced over the past few years, the Indian wine industry continues to grow and diversify. Most of that growth has come about because increasingly sophisticated Indian consumers have developed an appreciation of the social pleasures of sharing a glass of wine and are very willling to try local products. Consumers are also showing a keen interest in developing their wine knowledge and palates which has inevitably lead to the creation of a number of wine clubs and societies.
The oldest of these is the Delhi Wine Club, founded in 2002, which recently celebrated its 200th event.  Congratulations!  Meanwhile the Mumbai-based Wine Society of India, with its distinguished foreign advisers, can lay claim to being India's largest wine club.  Wine clubs have also been established in a number of other metropolitan areas including Bangalore, Chennai, Kolkata and Nashik.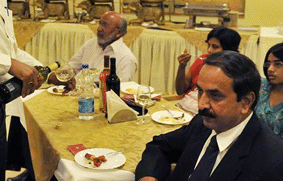 Now the Orange city of Nagpur has joined the trend with the first wine club in central India. The first ever seminar on wine in Nagpur was conducted in late 2010 and following the enthusiasm shown there, the Nagpur Wine Lovers Club (NWLC) was established in Janury 2011 with 11 initial persons. Form these small beginnings, and in less than two years. the  NWLC now has 112 registered members.  Organised events have seen lectures and tastings from prominent Indian wineries including Sula, Nine Hills, Four Seasons,Turning Point, Chateau D'ori, Ambrosia and Pause.
NWLC's activities have included wine courses and one day workshops for Wine retailers, cafes, restaurants and Bars.  Future plans include Nagpur's – and central India's – first ever Wine & Food Festival. NWLC has recently obtained membership of the Indian Grape Processing Board who, together with the All India Wine Manufacturers Association, have agreed to help sponsor a Wine Festival scheduled on 2nd & 3rd March 2013.
Further details of the NWLC can be found at www.nagpurwineloversclub.com